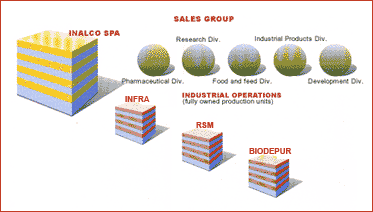 We believe that our development in the years to come should be supported by original research activities.

This belief lies behind our decision to establish a Research Centre which is now in full operation. Being fully aware of our capabilities, we decided to concentrate our activity in the carbohydrates area, where we already had a deep knolwledge and skill.

Afterwards we set up a small production unit totally devoted to the manufacture of products used in the biochemistry and molecular biology. The GMP rules are of course strictly observed.

We are confident that only by concentrating on our strengths, will INALCO continue to Keep pace with the Keenest and strongest competitors in the world.

This represents far INALCO a challenge, but also important opportunities to be exploited in the near future.

The market itself will be our main guide, and we shall use our best endeavours to recognize and meet the new requirements efficiently and effectively.